You Are Mulan!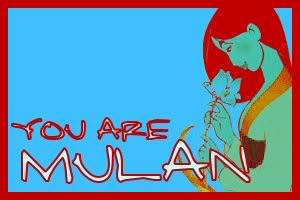 Strong and spirited. You're no one's girly girl; actually you are very determined person with a strong sense of self. Never let go of that! The only thing that equals your sense of self is your family, but the traditions of society can always be bent to protect something or someone you love.
Which Disney Princess Are You?
Ok, so I don't normally do these, much less post them on my blog, but I was pretty proud of this one. I don't like princesses, not one bit. They tend to be whiny, get into trouble and need a man to help them. Not only that, but they are not very realistic with their body types either. Mulan is not a princess, she does get into trouble, but gets herself right back out of it. She is a
WARRIOR

, something I think all women are, just don't always realize it.

When does this happen? When do we start thinking we need a man to save us? Does it happen to everyone? How can I avoid it with my sweet girls?

I remember thinking I could do anything when I was little. I didn't need anyone to help me, much less a stupid boy.

Then, as I entered Jr. High, I was told that to get a boy to like me, I needed to be more feminine. That I needed to be
needy
for a boy to like me. I needed to be like the Disney Princesses. It went against everything I believed in, but I liked boys, and blame it on hormones, I did it.

I didn't like it. It didn't fit me, so it didn't last for long. I was too independent and too...well,
not
needy. So, I was me, and guess what?? I still had a boyfriend. A couple actually.


When I was in my very early 20's, I had someone very close to me tell me that I would never get married because I was too

opinionated

. I didn't realize at the time what a great thing that was. So, again, I tried to change myself. But, it didn't work.

Want to know something else? I'm glad it didn't work. I'm glad that I am an opinionated, strong woman. I am glad that I can stick up for myself and those I love. I am glad that I have the strength to stick to my convictions. It has gotten me through many difficult situations and times.

Something I want to teach my girls is that you don't need a man in your life to be happy. You don't need anyone but yourself. No one will love you until you love yourself. And even then, you may not find someone to keep your feet warm at night. Everything happens in the time it supposed to and that doesn't always jive with what you think is supposed to happen. I also want them to know that it is more important to be smart and strong (physical, mental, emotional and spiritual) than to have a man in her life. Men are great, but you don't need one to be happy. Make yourself the person you want to be, you're with yourself more than you're with anyone else, you better like you.

I also want my girls to know that they are beautiful despite how they look. Some of the most beautiful women I know are not that beautiful by the world's standards. Their bodies are not perfect, their skin not perfect, their hair not perfect. However, the way they carry themselves, the confidence shows their beauty from within. Women who know that they are Daughters of God. Women that know they are special and radiate that inner light and beauty. Women who laugh, love, cook, clean, go to work, stay home, fight, cry, the list goes on. These women are REAL. They are not the Disney Princesses who find a man and live happily ever after. They struggle, they work hard to make things work. These are women of substance, the kind of woman that truly is beautiful.

So, I am proud to be like Mulan. However, I hope I am just a little more. More like the women I have described here today. More like the woman I want my girls to be. Maybe then, they will have a real live role model, someone they can look to and be like, only better.